Hermon Mehari 'Asmara' (USA/ER)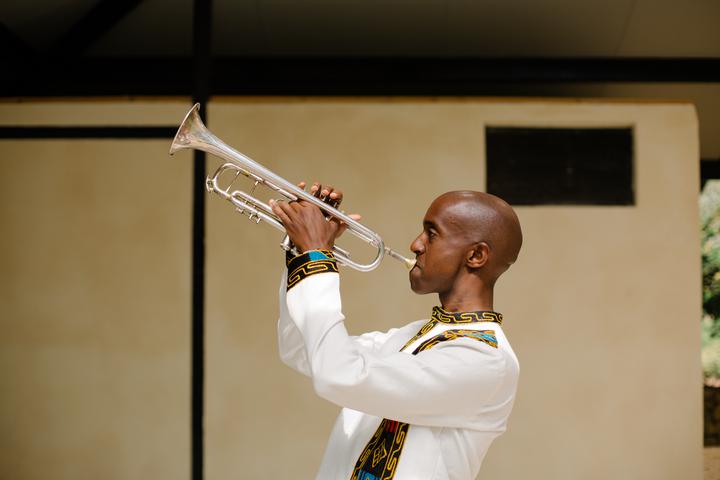 Hermon Mehari: trumpet
Peter Schlamb: vibraphone, piano
Luca Fattorini: bass
Zach Morrow: drums
We start the live-stream (real time, stream is not on demand!) about 1/2 h before the show starts. By clicking on "Now Live" a window opens, where you can watch the concert free of charge and without any registration. If you want, you can support this project with "Pay as you wish". Thank you & welcome to the real & virtual club!
In the attempt to pioneer a new sound while exploring his Eritrean origins, trumpeter Hermon Mehari composed an album entirely influenced by the harmonies, rhythms, and melodies of Eritrean music. However this work, "Asmara" (Komos), doesn't only come from his musical side-- the songs have an emotional bent and express the different aspects of his perspectives towards his relationship with family and the culture. The compositions are interpreted with personality and fervor by pianist/vibraphonist Peter Schlamb, bassist Luca Fattorini, and drummer Gautier Garrigue. Mehari brings on legendary Eritrean vocalist Faytinga as a guest on two numbers.
Hermon Mehari's 2020 sophomore album as a leader, "A Change For the Dreamlike" (MiRR), takes on a more personal tone. Written and recorded in a barn in the French countryside during le confinement, it shows only hints at the aesthetic set by his previous debut album. The project features a number of incredible musicians: Tony Tixier, Peter Schlamb, Ryan J. Lee, Kae Dilla, DeAndre Manning, Hugo LX, Karl McComas-Reichl, Jeff Hill and Zach Morrow. Although he already had a growing reputation, the success of Mehari's debut album ,"Bleu", put him concretely on the musical map in 2017. "Bleu" includes ECM recording artist Aaron Parks on piano, Blue Note recording artist Logan Richardson on alto saxophone, Peter Schlamb on vibraphone, Ryan J. Lee on drums and Rick Rosato on bass.
Mehari was the winner of the 2015 Carmine Caruso International Trumpet Competition and a semifinalist in the 2014 Thelonious Monk Jazz Competition. In 2014 he released the CD "Our Journey" with Diverse, his second with the group. Mehari maintains a touring schedule around the world with his own group and as a sideman. Mehari was also the winner of the 2008 National Trumpet Competition and placed 2nd in the International Trumpet Guild competition in Sydney, Australia. As a founding member of Diverse, whose eponymous debut album on Seattle-based Origin Records reached the Top 40 on the Jazzweek Radio Charts, he has performed professionally with noted saxophonists Jaleel Shaw, Logan Richardson, Bobby Watson, Ben Van Gelder, and Tivon Pennicott. He has also performed with Aaron Parks, Joe Sanders, Hubert Laws, Randy Brecker, Tony Tixier, Dave Pietro, Clay Jenkins and many other great musicians.
In Zusammenarbeit mit INNtöne Jazzfestival
https://www.hermonmehari.com/
https://www.inntoene.com/