Joe Lovano & Dave Douglas 'Sound Prints' (USA)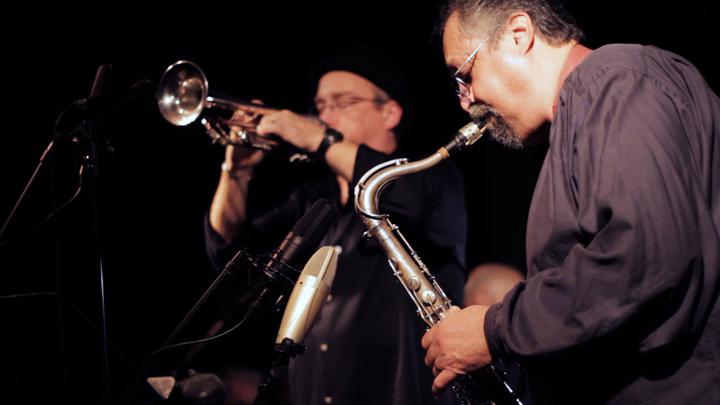 Joe Lovano: tenor, soprano saxophone
Dave Douglas: trumpet
Lawrence Fields: piano
Yasushi Nakamura: bass
Rudy Royston: drums
We start the live-stream (real time, stream is not on demand!) about 1/2 h before the show starts. By clicking on "Now Live" a window opens, where you can watch the concert free of charge and without any registration. If you want, you can support this project with "Pay as you wish". Thank you & welcome to the real & virtual club!
Soundprints is a quintet that saxophonist Joe Lovano and trumpeter Dave Douglas assembled to carry on the spirit and philosophy of Wayne Shorter's music. Both of the band's previous albums featured compositions by Shorter himself but this is their first effort to contain only new material written by either Lovano or Douglas.
As the album and track titles suggest, there is an underlying theme of space exploration here which reflects Shorter's long-time love of science fiction. Pieces like "Space Exploration" and "Antiquity to Outer Space" begin with the trumpet and saxophone gracefully shooting upwards like a rocket soaring into space, as the rhythm section faintly tumbles around them. On "Exploration," that leads to Lovano and Douglas playing strings of long notes separately and together, supported by the busy pattering of Linda May Han Oh's bass and Joey Baron's drums. On "Antiquity" the horns soar in unison and slowly gain speed before they give way to an eloquent rolling solo by pianist Lawrence Fields.
These five musicians play with a unity which really shows on quieter pieces such as the swaying waltz "Manitou" and the serene "The Transcendentalists." where everything flows together led by Douglas' muted trumpet and Lovano's rapturous tenor lines. The entire album sparkles with inspired work from all the players. Baron's jogging beat and Field's bright, searching piano stand out amidst the backdrop of "Life On Earth" while Oh keeps the beat tight and drops in a monster bass solo. The rhythm section maps out a freely pulsing beat on "Sky Miles" which suggests Wayne Shorter's time in the 60's Miles Davis quintet. "The Flight" has Lovano and Douglas jostling each other over a melody with sharp, funky corners while, on "Pythagoras," the horns play with a hip swagger as they spiral and swoop over the push-pull rhythm.
Joe Lovano and Dave Douglas are both involved in a lot of varied projects but this band feels like the simplest and most freewheeling either does right now. The music can sound a bit complex on the surface but it has energy and a contagious spirit of fun. At heart, these are five excellent musicians creating music which combines familiar elements and exploratory freedom. This release shows that Soundprints has become a very formidable unit. (www.allaboutjazz.com)
http://www.joelovano.com/
https://davedouglas.com/
https://www.lawrencefields.com/
https://lindamayhanoh.com/
https://www.drummerworld.com/drummers/Joey_Baron.html
https://soundprints.bandcamp.com/album/other-worlds