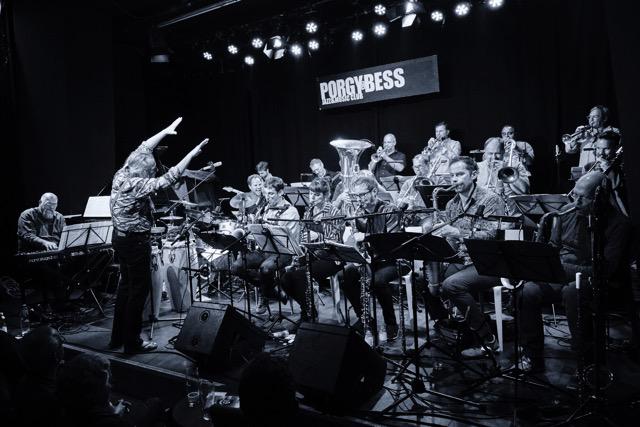 Fabian Rucker, Robert Schröck, Chris Kronreif, Manfred Balasch, Florian Fennes: reeds
Andi Pranzl, Aneel Soomary, Markus Pechmann, Martin Ohrwalder, Walter Fend: trumpets
Robert Bachner, Lois Eberl, Phil Yaeger, Gerald Pöttinger, Alex Rindberger: trombones
Christoph Cech: piano, keyboards, compositions
Andreas Erd: guitar
Tibor Kövesdi: bass
Lukas Knöfler: drums
Christian Mühlbacher: drums, percussion, compositions
Werner Angerer, Patrik Haas, Paul Mühlbacher: sound, team
We start the live-stream (real time, stream is not on demand!) about 1/2 h before the show starts. By clicking on "Now Live" a window opens, where you can watch the concert free of charge and without any registration. If you want, you can support this project with "Pay as you wish". Thank you & welcome to the real & virtual club!
Sorry this part has no English translation
Oft höre ich die Frage: "Gibt es Nouvelle Cuisine noch?" mit dem – die Zweifel, an dieser Stelle einen bezüglich Branche falsch platzierten Text zu lesen, ausräumenden – Nachsatz, dass die Konzerte dieser Bigband so schöne, prägende Ereignisse gewesen wären. Allen ins Freundschaftsbuch geschrieben: Ja, es gibt uns noch! Fernab jeglicher Karrierezwänge tritt hier manchmal bis eher selten ein Ensemble zusammen, um einfach spannende Musik zu machen. Aus der Zeit gefallen? Aber hallo!!! Wenn´s dazu kommt, dass wir uns auf der Bühne versammeln, dann fährt das Konzert ein wie der Paukenschlag in die Symphonie. Selbst überzeugen! (Christoph Cech, Mai 2023)
http://www.nouvelle-cuisine.at/
http://www.christianmuehlbacher.com/
https://christoph-cech.com/