GolNar ':: گلنار :: Tear Drop' (IR/CAN/A/BRA/HU/AUS)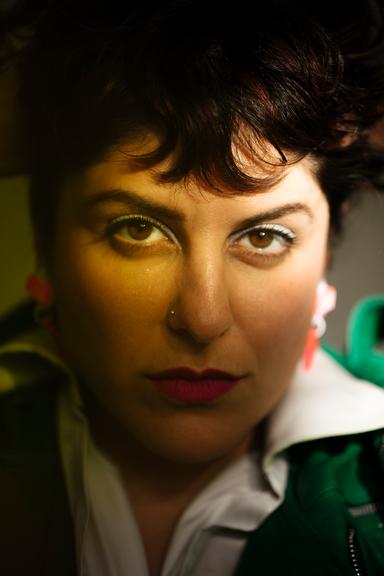 Golnar Shahyar: vocals, piano, ocarina
Mario Rom: trumpet
Mahan Mirarab: guitar
Vinicius Ciccone Cajado: bass
Andras Des: percussion
Joanna Lewis: violin
Anne Harvey-Nagl: violin
Lena Fankhauser: viola
Melissa Coleman: cello
Album Presentation
We start the live-stream (real time, stream is not on demand!) about 1/2 h before the show starts. By clicking on "Now Live" a window opens, where you can watch the concert free of charge and without any registration. If you want, you can support this project with "Pay as you wish". Thank you & welcome to the real & virtual club!
In an era filled with noise, it's easy to forget that silence is golden. If it must be broken, it should be done not carelessly, but with purpose. GolNar's debut album "Tear Drop" is a profound example of that. The Iranian/Canadian vocalist and multi-instrumentalist Golnar Shahyar moved to Vienna in 2008 to pursue her dream of becoming a musician. Since then, her musical activities as a bandleader, vocalist, and performer, as well as an advocate for fairness and diversity, have had a profound influence on the independent music scene. She is known as one of Europe's most accomplished contemporary and improvised vocalists, as well as a collaborator in dance, theatre, and opera projects. Her voice is an exquisitely honed instrument, evocative and astonishingly flexible; her singing is influenced equally by singers like Joni Michell and Betty Carter and by Fairuz, Hayedeh, and Aziza Mustafa Zadeh. She has the improvisor's gift of balancing the familiar and the unexpected; her fine control of pitch, timbre, accent, and breath allows her to use them each as individual elements or to unite them all in the service of a lyric.
Her work as the lead singer of Choub, Gabbeh, and the Golnar & Mahan Trio is a prism of languages and styles drawing equally from Western Asian and North African traditions and from the contemporary music of Europe and the Americas.
There is no meaningful division between her music and the social themes it addresses; she came of age in Iran, where women have fought for decades to achieve equality and a public voice. Add to that the status of an outsider in Western Europe, representing a culture often viewed with mistrust and misunderstanding in culture and politics, and music-making in itself becomes a political act.
Her solo debut, "Tear Drop", is the culmination of GolNar's resilience, hard work, and vision over the years. It positions her not only as a master vocalist but also as a great composer and arranger. She creates a landscape of emotion and narrative, informed by tradition and yet completely her own.
Her band deserves mention in its own right: trumpeter Mario Rom, guitarist Mahan Mirarab, bassist Vinicius Ciccone Cajado, percussionist András Dés, and the Koehne Quartett are all prominent members of Vienna's fertile jazz, classical, and improvisation scene. This album release concert is a rare opportunity to experience GolNar with the full ensemble.
In her own words: GolNar's music bathes us in waves of love, hope, and grace. Her music is both comfort and call to action, offering us a chance to bear the burden, dream the light, and take a stance. (Philip Yaeger)