Jools Holland & Band (GB)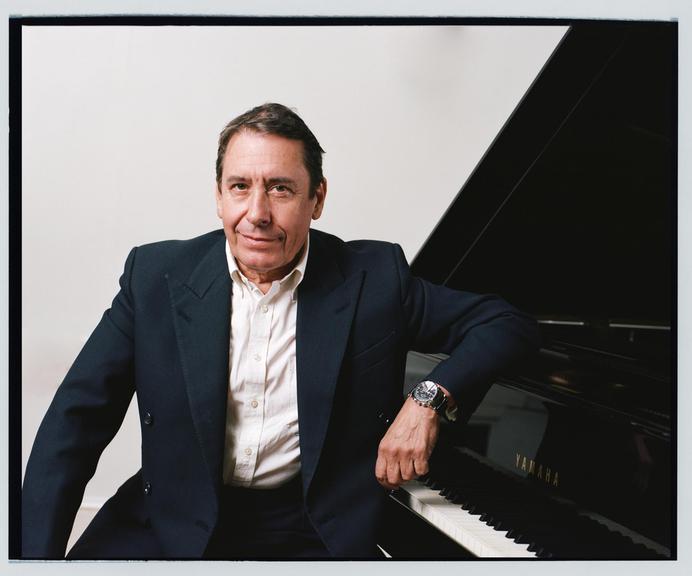 Jools Holland: piano
Louise Marshall, Lucita Jules, Ruby Turner: vocals
George Latham: drums
We start the live-stream (real time, stream is not on demand!) about 1/2 h before the show starts. By clicking on "Now Live" a window opens, where you can watch the concert free of charge and without any registration. If you want, you can support this project with "Pay as you wish". Thank you & welcome to the real & virtual club!
Jools Holland OBE DL is a composer, pianist, bandleader and broadcaster.
From playing pubs in the East End docks as a teenage greaser, to leading his rhythm and blues orchestra and selling millions of records this century, it is his passion for music that has made Jools Holland into a doyen of the music scene.
Jools was awarded an OBE in 2003 for his services to the British music industry. He is married with four children and lives in a world of his own.

Jools' autobiography, Barefaced Lies & Boogie-Woogie Boasts, hit the shelves on 4th October 2007 (published by Michael Joseph Ltd.); the paperback was published in the summer of 2008.

Jools Facts

The first recording session Jools ever played on was in 1976, for the punk band Wayne County and the Electric Chairs (Wayne later had a sex change and became Jayne).
Jools has worked with the same drummer for more than 40 years – Gilson Lavis.
When legendary blues pianist Dr. John switched to playing the guitar for a track on his live record there was only one man that he asked to take his seat at the piano – Jools Holland.
Jools holds the unique status of performing with musicians who have achieved success in every decade of the 20th Century.
Jools must hold the record for making more music programmes for TV than any other host: The Tube, made in Newcastle; four series of Night Music, made in New York; three series of The Happening, filmed at London's Astoria Theatre; two series of Name That Tune, filmed in Leeds; fifty-three series of Later...; twenty-five Hootenanny shows; and one series of Beat Route, filmed all over the world.
Although Squeeze sold millions of records, the most successful record Jools ever played on was Good Thing by The Fine Young Cannibals, which reached Number One in seventeen countries. Jools was paid the statutory session fee of £150.
Jools provided a headstone for the grave of blues legend Jimmy Yancey in Chicago.
At the G8 Conference in Holland, Jools and his Rhythm & Blues Orchestra performed All You Need is Love for the leaders of the western world. On hearing the trumpet introduction, Jacques Chirac mistook it for the opening of the French national anthem and stood up.
Out of courtesy Mr Blair, Mr Clinton, and Mr Yeltsin also stood.
Once they realised it was The Beatles' song, and to avoid an international incident, they carried on dancing. After the performance, Bill Clinton spent half an hour with the brass section – talking about saxophones.