Focusyear Band 2022 (USA/ESP/RUS/BRA/CAN)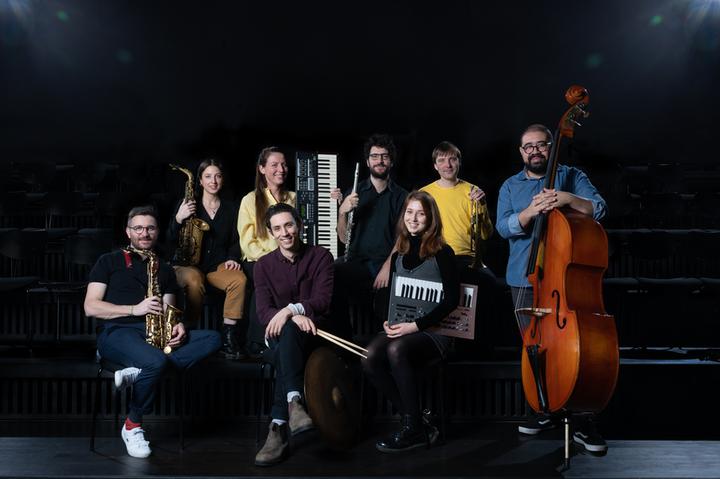 Alden Hellmuth, Roberto Nieva: alto saxophone
Fernando Brox: flute
Yvonne Rogers, Julia Perminova: piano, keyboards
Thiago Alves: bass
Aaron Dolman: drums
We start the live-stream (real time, stream is not on demand!) about 1/2 h before the show starts. By clicking on "Now Live" a window opens, where you can watch the concert free of charge and without any registration. If you want, you can support this project with "Pay as you wish". Thank you & welcome to the real & virtual club!
The FOCUSYEAR BAND 22, of Jazzcampus Basel, Switzerland, once again demonstrates its international flair. For the first time there are two pianists in the band, Julia Perminova from Russia and Yvonne Rogers from the USA. Brazilian bassist Thiago Alves and Canadian drummer Aaron Dolman complete the rhythm section.
The horn section consists of alto saxophonists Alden Hellmuth from the USA and Roberto Nieva from Spain, trumpeter Dima Bondarev from Ukraine, and flutist/trombonist Fernando Brox from Spain.
Every year, the FOCUSYEAR BAND is reassembled. The members are selected from a large number of applicants from all over the
world by a top-class jury of international musicians. This year's unusual line-up, with two very different pianists and two very different alto saxophonists, offers exciting and unique sonic possibilities. Each musician in the ensemble has their own individual, promising, soloistic sound and expression, which contributes to the overall musical texture. Over the course of the year, the ensemble develops a new full-length program every other week in collaboration with renowned jazz masters. As a result of the work done during these intensive weeks, the eight up-and-coming musicians are now presenting their own compositions, which will be featured on an album released this spring. (Pressetext)