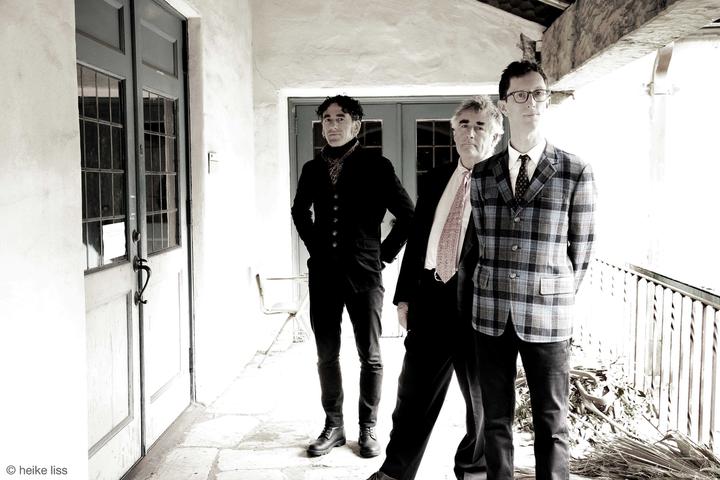 Fred Frith: guitar
Jason Hoopes: bass
Jordan Glenn: drums
We start the live-stream (real time, stream is not on demand!) about 1/2 h before the show starts. By clicking on "Now Live" a window opens, where you can watch the concert free of charge and without any registration. If you want, you can support this project with "Pay as you wish". Thank you & welcome to the real & virtual club!
New album "ROAD" released 10/2021 !!!!
Everything has changed as we prepare to step out into the unknown once more. The group looks backwards and forwards in March 2021.
1) What has life been like under COVID?
Fred: "A period of deep reflection punctuated by the pain of loss and the humble appreciation of unexpected generosity. Learning again how to look, and see, and listen, and hear. Struggling with everything, trying to make sense of it all. Enjoying to the full whatever there has been to enjoy!"
Jordan: "I wish I could say it's been artistically productive, that I spent my time getting deeper into the practice of my instrument and work as a composer. Unfortunately, it's been much more about meeting basic needs and simply surviving. Not to mention dealing with the waves of depression."
Jason: "Deep re-evaluation of values and priorities. A full six month break from my instrument. Welcoming more grey hairs and more lines on the face. Deep healing of old wounds. Renewed sense of mission. Awe and gratitude. Much too deep for words alone."
2) What we are particularly looking forward to about The Road?
Jason: "To travel and perform again with two of my best friends. To commune and make contact again with audiences and dear far-away friends. The opportunity to be surprised and shaped by it all. Adventure. Perspective. I'm thrilled anticipating the music that's ready to announce itself in our "post-Covid" landscape. What is its sound? Let's go find out!"
Fred: "Seeing and hearing with new eyes and ears. Going for broke night after night! Ushering in some new material. Surprising ourselves, as always! Laughing a lot, because these guys can make me laugh like nobody else!"
Jordan: "Playing and hanging with you two... being anywhere that is "away" from where I've been for the last year... getting to, once again, experience the highs and lows, the mind games and surprises of performing in public."
3) Where do we think the music will take us?
Jordan: "Hopefully closer to getting it right."
Jason: "I hope into fresh frames, a deeper experience of prayer, and closer to our truer selves than ever before."
Fred: "Anywhere we want to go!" (Pressetext)