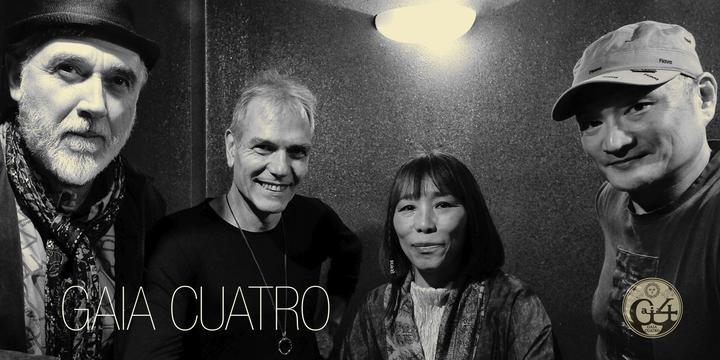 Gerardo di Giusto: piano

Aska Kaneko: violin

Carlos 'el tero' Buschini: bass
Tomohiro Yahiro: drums
We start the live-stream (real time, stream is not on demand!) about 1/2 h before the show starts. By clicking on "Now Live" a window opens, where you can watch the concert free of charge and without any registration. If you want, you can support this project with "Pay as you wish". Thank you & welcome to the real & virtual club!
A puzzling encounter between Argentina and Japan on the frontier of Jazz
The fiery and intense character of Argentine music, mixed with the refinement of Japanese musical tradition, provide the raw materials for this exceptional quartet, created from the meeting of two major icons of Japanese jazz and two inventive Argentine musicians from the European scene.


The mind-blowing virtuosity of violinist Aska Kaneko – a true star in her native Japan – is well served by Gerardo Di Giusto's sophisticated and colorful compositions. Their subtle rhythms respond to the ensemble in perfect harmony, weaving in the surprising conversation between bass player Carlos Buschini and percussionist Yahiro Tomohiro. 

These four musicians are taking the art of improvisation to a whole new level, away from predictable formulas. As a matter of fact, they are shaping a new style of music. Nevertheless, its natural elegance makes it still sound surprinsingly familiar to us.

The two Argentinians and the two Japanese met by chance in Paris in 2003, one fascinated by the opposite characteristics of the other, and they decided to be mutually contaminated - the first by elegance, the latter by brio. This is how Gaia Cuatro was born, and since 2004 they have been touring around the world, especially in Japan and Europe.

Italian world renowned star trumpeteer Paolo Fresu was so enthusiastic about the project that he spontaneously decided to join the band for recordings and as their special guest at live concerts.   
"A truly contemporary band ... coherent, courageous, innovative" (Paolo Fresu)
https://www.cultureworks.at/gaia-cuatro/