Dusha Connection & Wolfgang Puschnig ' Invisible Bridges' (A)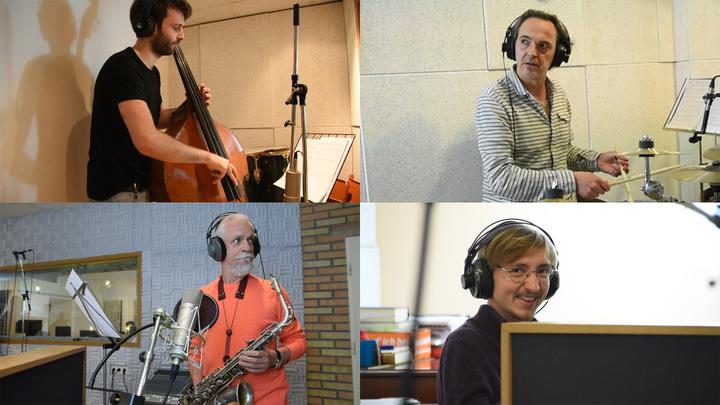 Wolfgang Puschnig: alto saxophone, flute
Sebastian Schneider: piano
Clemens Rofner: bass
Esad Halilovic: drums
CD-Präsentation
We start the live-stream (real time, stream is not on demand!) about 1/2 h before the show starts. By clicking on "Now Live" a window opens, where you can watch the concert free of charge and without any registration. If you want, you can support this project with "Pay as you wish". Thank you & welcome to the (virtual) club!
A FIREWORKS OF JAZZ TO GET YOU GOING
The three instrumentalists are pulling off an effervescent and sparkling performance that casts a spell over the listener; ever open-minded, they inimitably combine the most diverse musical topics whilst drawing from the broad stock of jazz history. Playing with all kinds of styles and never forgetting their respective– Balkan – roots, they follow the composed piece as well as leaving room for artful improvisations.
The sound created by Esad Halilovic and his partners is full of thrilling melodies, boldly virtuoso solos, surprise twists and breaks, unconventional experiments and electrifying build-ups. The mood pendulum swings between loud and muted, intimate and exotic, the mysterious – and outrageous nonchalance.
The trio has sparked great attention with its new album MERAK. The CD presentation was in the renowned jazz club Porgy & Bess in Vienna and subsequently they performed at some well-known jazz Festivals (such as Jazz Plaza International Festival of Havana, RARA Festival in Italy, One Jazz Festival in Romania, Petrovac Jazz Fest and Jazz by Herceg Novi in Montenegro, Hongkong Jazz Festival, Beishan Jazz Festival in China…….).
Michael Ternai, Music Austria Export
http://dushaconnection.com/WP/musik/jazz-trio/