Georg Graewe & Sonic Fiction Orchestra (D/A/I/AUS)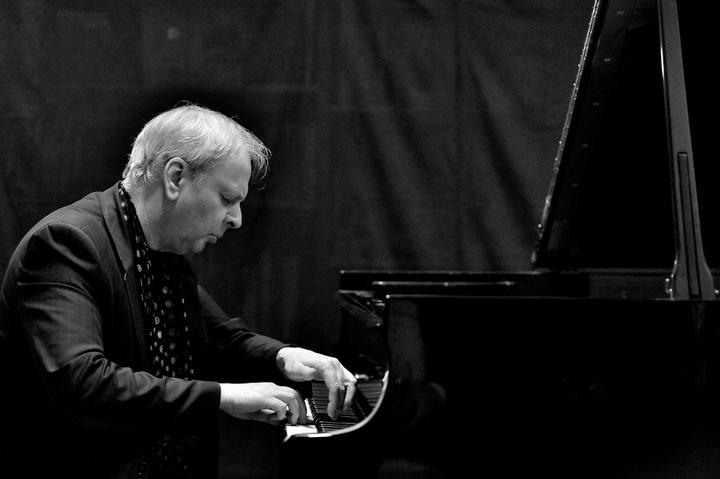 Georg Graewe: piano
Frank Gratkowski: clarinets
Maria Gstättner: bassoon
Sebi Tramontana: trombone
Sara Kowal: harp
Martin Siewert: guitar
Joanna Lewis: violin
Margarethe Herbert: cello
Peter Herbert: bass
Wolfgang Reisinger: drums
We start the live-stream (real time, stream is not on demand!) about 1/2 h before the show starts. By clicking on "Now Live" a window opens, where you can watch the concert free of charge and without any registration. If you want, you can support this project with "Pay as you wish". Thank you & welcome to the real & virtual club!
Georg Graewe began composing and performing professionally at the age of 15. He has since been leading a variety of ensembles - ranging from trio to chamber orchestra formats - which have involved some of the leading instrumentalists in contemporary music. His compositions, which include chamber music and works for full orchestra as well as scores for films, theatre productions, radio drama and video, have been performed and broadcast around the world.
Graewe has had a long-standing trio with Dutch cellist Ernst Reijseger and US-percussionist Gerry Hemingway since 1989 and has also performed and recorded with Anthony Braxton, Evan Parker, Dave Douglas, Phil Minton, Roscoe Mitchell, Barry Guy, Barre Phillips, Hamid Drake and John Butcher among many others.
Since 2000 he has also written 3 operas. Kopenhagen, his first, (based on the play by Michael Frayn) was produced by OPER KÖLN (CologneOpera House) in 2003. His second opera Quicksilver, a commission by Semperoper Dresden, came out in November 2006 and the most recent, Barbara Strozzi oder die Avantgarde der Liebe was staged by Theater Luzern/Switzerland in 2010 and Oper Bonn/Germany in 2011. His videocantata on Albert Einstein's travel diaries - alle kennen meine visage - was premiered at the Jewish Museum Berlin in September 2005.
Since 1999 Graewe has been associated with CNMAT (Center for New Music and Audio Technology) at UC Berkeley. From 2002 to 2007 he taught at Hochschule für Musik HANNS EISLER in Berlin.
In 2010 he curated a series of 27 events that presented different aspects of resonance between music, poetry, visusal arts and science as part of the European Cultural Capital RUHR.2010. A catalogue plus DVD edition documenting this project has been published on the Random Acoustics label.
Graewe has recently launched his new Sonicfiction Orchestra as part of a 3-day portrait at Vienna's Porgy&Bess in December 2011, recordings from which are being prepared for future release.