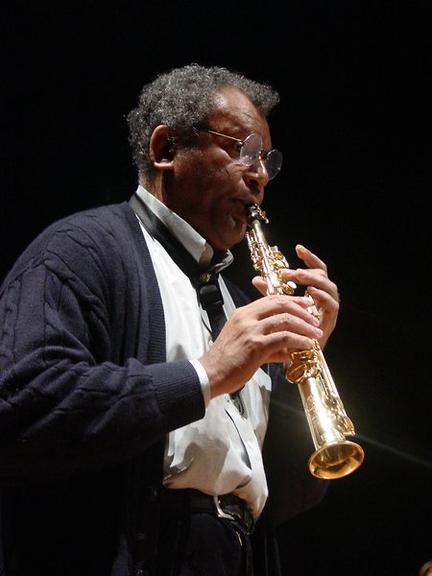 Anthony Braxton: saxophones, compositions
Taylor Ho Bynum: cornet, brass
Adam Matlock: accordion
Dan Peck: tuba
Jacqueline Kerrod & Miriam Overlach: harps
Anthony Braxton is one of the fundamental figures in the music of the late 20th century. His work as a saxophonist and composer has set trailblazing precedents by tapping into and expanding new conceptual and instrumental possibilities. The development of his unique musical language began as an exploration of rhythms and textures, which Braxton combined with techniques gained from experimental composition, from graphic notation to serialism all the way to multimedia presentation. In the interim, he can look back on and celebrate over four decades of kaleidoscopic output: recordings, compositions, theoretical works and university teaching appointments.
Braxton has remained a controversial figure among musicians and critics, since he moves with complete autonomy between diverse musical worlds and has absorbed the influences of John Coltrane, Paul Desmond and Eric Dolphy with equal enthusiasm as those of John Cage or Karlheinz Stockhausen. The latter preoccupations have led to plenty of criticism from traditionalists. There is however zero cause for doubt regarding the originality and rich world of ideas that Braxton's output represents. He has managed in his resourceful way to reconcile the intuitive aspects of free jazz with the formal and harmonic methods of contemporary classical music. Braxton has composed works for orchestra and operas – he has experimented with unusual line-ups, writing for and performing with 100 tubas or four orchestras where it suits his fancy. He has created myriad complex works that he uses as jumping off points for improvisations, deconstructions and remixes.
http://tricentricfoundation.org/