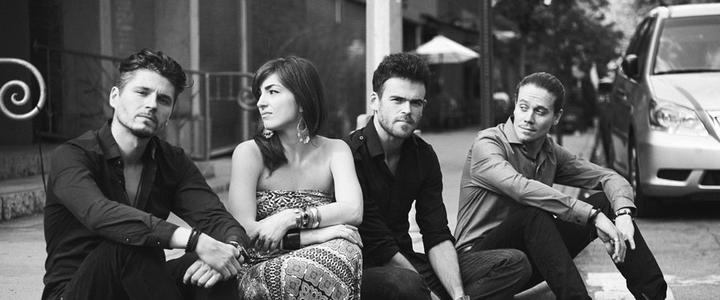 Ioana Vintu: vocals
Andrew Gould: saxophone
Matthias 'Pedals' Loescher: guitar
Johannes Felscher: bass
Peter Kronreif: drums
Based in New York City, Nuf Said has been bringing its unique musical recipe on tour to audiences around the world. Starting out in 2011 as a bunch of freelance musicians/friends coming from Romania, Austria and NYC, who wrote music and jammed together Nuf Said has since been featured on concerts, festivals, TV, and radio stations throughout the U.S.A, Europe, Canada, China, Hong Kong, Indonesia, Malaysia and Singapore. They released their second album "Rise" under Ropeadope Records in 2016, featuring the song "Sister" nominated for the American Songwriting Awards 2016.
The music of 'Nuf Said is neither jazz nor funk nor soul nor rock. It's all of it and more. This New York-based quintet taps into each of those styles and mixes them all together to create a groove-heavy, stirring brand of music that's all its own. [...] There may be a rhythm-centered aesthetic here, but you can't pin down the deliciously omnidirectional approach of 'Nuf Said. There's is a sound that abounds with many musical flavors and scents. (Dan Bilawsky, All About Jazz)
Back at Stage 2, New York outfit Nuf Said ended the night with its jazzy R&B, the group's swirling horns proving a pleasant and compelling addition to the gently strong vocals of lead singer Ioana Vintu and the mellow guitar-bass combination in the background. […]'Nuf Said seamlessly melds genres such as jazz, R&B, and funk while showing that they can end a talent-packed festival such as CMJ with festive boldness. (Zach Weg, The Deli Magazine)
...shades of jazz, hints of funk, a touch of soul and a garnish of rock. Yep, it is hard to pin down. Their sound is unique, combining jazzy vocals, funky grooves and plenty of spontaneous improvisation. (Bill Bucks, Soul and Jazz and Funk)