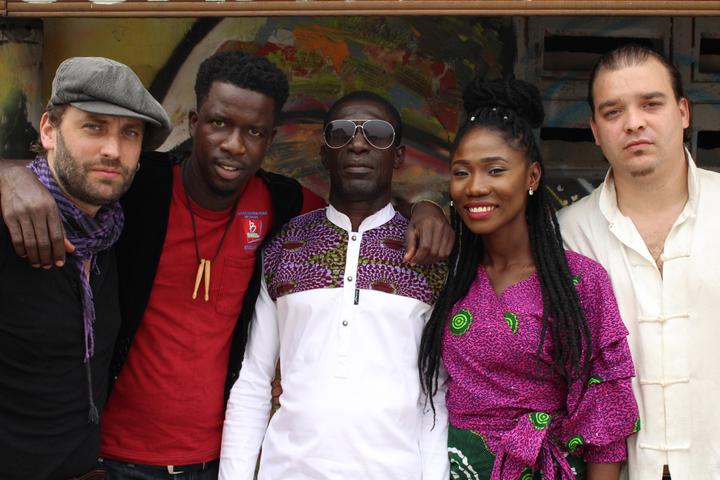 Bakabri: vocals, percussion
Yaa Yaa: vocals, guitar
Carl Winther: keyboards
Henrik West: bass
Francis Kweku Osei: drums
FanteFante is an Afro-Pop-Rock-Fusion band formed in Accra, the capital city of Ghana, West Africa. It's made up of five talented and versatile musicians who share a fiery passion for music when playing together. Members of the band include Francis Kweku Osei (drums), Henrick West (bass), Carl Winther (keyboards), Bakabri (percussion) and Yaa Yaa (vocals). With their unique rhythm and the powerful voice of their lead-singer, Yaa Yaa, FanteFante brings to bear the beauty of afro-pop and -rock in an all-explosive fusion of genres. They have played on numerous stages in Ghana and other parts of the world as individuals. In their spare time they still enjoy writing and playing music together. Their long term goal is to present themselves to the world and be heard as FanteFante.
Yaa Yaa / Lead & Back Vocals, Acoustic Guitar, Percussion
'Yaa Yaa', also known as Bertha Bridget Kankam, burst onto the music scene after winning at the "Stars of the Future" music reality show in 2009 in Ghana. Ever since, she has been on top of the industry by releasing music and offering stunning live performances. Born in 1990, Yaa Yaa holds a bachelor degree in music & theatre arts. After graduating from the University of Ghana she has gone ahead to partake in musical theatre performances in and outside of Africa. With the release of a single titled "Dumb-Drum", Yaa Yaa received three nominations at the 2016 Vodafone Ghana Music Awards. Dumb Drum will be released world wide on the 27th July 2017 at the Show in Vienna / Porgy & Bess. Currently she is working on her first bebuet album released in 2018.
Boaten-Kodua Akyeampong-Aka Bakabri / Vocals, Seprewa, Kalimba, Flute
Boaten is a visionary, blind musician and mushroom farmer, born in Ghana. As a school boy he started to develop his vision of becoming a musician. His skills as a singer and flutist improved constantly. Over the years he taught himself to play several traditional African musical instruments. He also was among the first members of the Pan African Orchestra.
Francis Kweku Osei / Drums, Back Vocals, Percussion
Francis Kweku Osei is a passionate drummer who started playing percussions and the conga for churches at the age of 4. After moving to Accra at the age of 17 he played with Tagoe Sisters (Award-winning gospel musicians) and Afro Moses. Amongst others he played with Sekou Kouyate, Monique Seka, Hugh Masakela and Osibisa band. Moreover he played for some of Ghana's legendary hi-life artistes like Pat Thomas, Rex Omar, Jewel Ackah as well as popular hip life artistes like Samini, Sarkodie, Efya, and Becca.
Carl Winther / Keyboard
Carl Winther is a piano player, singer, composer and songwriter, born 1984 in Denmark. His style ranges from Jazz to contemporary music. He is son of the world famous composer and trumpet player Jens Winther and started playing piano in 1991. The award winning young piano player has toured with top international artists such Billy Hart, Jerry Bergonzi, Bill Evans, Daniel Humiar, Adam Nussbaum, James Genus, Till Broenner, Markus Strickland, Dick Oats, Dejan Terzic, Eliel Lazlo, Moussa Diallo, Mads Vinding, Hugo Rasmussen, Mikkel Nords, Al Campos, Tomas Franck, Doug Raney, Frederik Kronkvist and Afonso Corea. In 2011 he won two awards for his compositions, the 32nd Getxo Jazz Competition (Spain) and DPAs 1st Prize for best young Jazz Composer (Denmark). His performance is breathtaking and virtuous. He has a fluent ability to improvise. At the same time his compositions are precise and extravagant.
Henrik West / Bass
Henrik West is a Copenhagen based musician with an international view and a passion for funk, jazz and soul music. He started playing bass at the age of 6 and has been playing live performances with old jazz cats from the age of 13. The live music experience is crucial for him and his Master graduation as one of the youngest musicians from Rhythmic Music Conservatory in Copenhagen was a live concert with improvisation as main focus. Because of his love for the interaction between musicians, Henrik West never travels without his bass – where ever he is, from Eastern Europe to Los Angeles, he always ends up jamming with local musicians.
http://www.fantefante.com
https://www.facebook.com/FanteAshanti/?fref=ts