Per Mathisen / Nguyên Lê / Gary Husband (N/F/GB)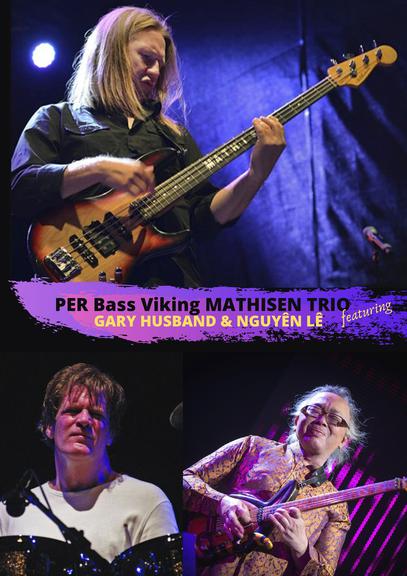 Per 'Bass Viking' Mathisen: bass
Nguyên Lê: guitar
Gary Husband: drums
We start the live-stream (real time, stream is not on demand!) about 1/2 h before the show starts. By clicking on "Now Live" a window opens, where you can watch the concert free of charge and without any registration. If you want, you can support this project with "Pay as you wish". Thank you & welcome to the real & virtual club!
This highly explosive powerhouse trio features 3 of Europe's most in demand musicians. The virtuosity as instrumentalists and the interplay within the band is no less than breath-taking and jaw- dropping.
Recording artist and composer, leader and founder of the trio is the Norwegian "Bass Viking", Per Mathisen, is not only Norway's answer to Jaco Pastorius on electric bass but also Norway's answer to Niels Henning Ørsted Pedersen on upright acoustic. Released as many as 15, highly acclaimed CD's in his own name. Played with the likes of: Alex Acuna, Keith Carlock, Bill Evans, Adam Nussbaum, Jon Christensen, Maria Schneider, Terri Lyne Carrington, Geri Allen, Gary Thomas, Ulf Wakenius.
Recording artist, composer, arranger, Nguyên Lê, is one of France's most famous guitarists worldwide. Released 16 CD's in his own name and played with super stars like: Herbie Hancock, John Scofield, Maria Schneider, Matt Garrison, Peter Erskine. Received lots of prestigious prizes for his work.
Recording artist, composer and multi-instrumentalist Gary Husband from the UK is world famous as a drummer and equally acclaimed as a keyboard player. Not any other musician on the planet can show for such a long double instrumental carrier like Gary Husband can. Released many CD's in his own name and tours the world with the likes of: John McLaughlin, Allan Holdsworth, Jack Bruce, Billy Cobham.
https://permathisen.com/
https://www.nguyen-le.com
https://garyhusband.com/