Karl Ratzer & Ed Neumeister 'Alone Together' (A/USA)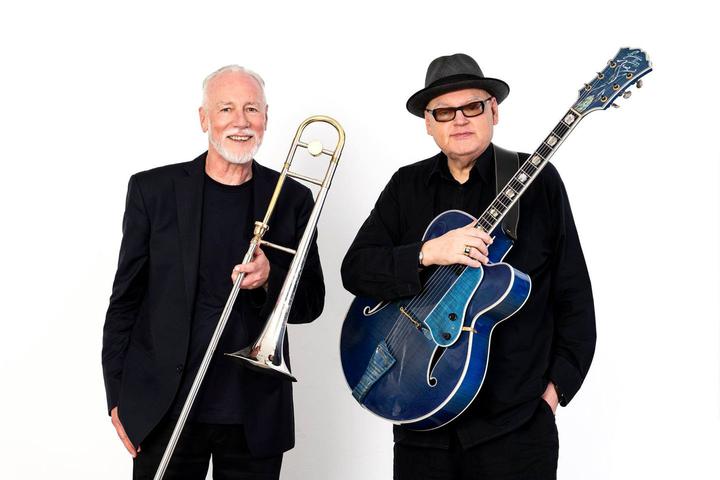 Karl Ratzer: guitar, vocals
Ed Neumeister: trombone
We start the live-stream (real time, stream is not on demand!) about 1/2 h before the show starts. By clicking on "Now Live" a window opens, where you can watch the concert free of charge and without any registration. If you want, you can support this project with "Pay as you wish". Thank you & welcome to the real & virtual club!
Alone Together – Love, Verve, Melancholy & the "Great American Songbook"
Karl Ratzer & Ed Neumeister have been playing together for 10 years in various bands of the guitar player and now have also gotten together as a duo. Their brand new program "Alone Together" is a hommage to the "Great American Songbook of Jazz" (CD/LP to be released in the fall of 2021 by ENJA Records).
Karl Ratzer's two original compositions (Sabah El Nur & Señor Lopez) fit in harmoniously with the jazz classics Body & Soul, I Thought About You and Alone Together. All are played with inimitable verve & creativity and with a deep feeling for the songs (lyrics included), even though most of the tracks arebinstrumental; I'm Old Fashioned, the only song sung by Karl Ratzer, reminds one of Chet Baker, with whom the guitarist toured.
This duo of superlatives, in the rather rare line-up of guitar & trombone, impressively prove, by its interpretations, that jazz standards are not old-fashioned or out of date, but that their essence includes something eternal, a timelessness, that touches young and old today as it did yesterday. The unmistakable atmosphere of the 1920's & 30's in New York awakens to new pulsating life on this new CD/LP "Alone Together" by Karl Ratzer & Ed Neumeister.
Karl Ratzer lead various rock, funk & soul bands since the early 1960s, in the 70s he went to the USA (working with Jeremy Steig, Joe Chambers, Dan Wall, Chaka Khan, Chet Baker and others), after his return to Vienna in the 80s, he turned more and more to modern jazz, without discarding the various funky grooves. An important musical and spiritual influence for him was and still is the late pianist Fritz Pauer, who brought him together with musicians who taught at the Music University in Graz, such as Howard Curtis and Ed Neumeister, who later became members of the Karl Ratzer Quintet with Johannes Enders and Peter Herbert, with very successful performances in Austria and Europe. Subsequently, a trio (with P. Herbert & H. Curtis) was also formed and a collaboration with Franz Koglmann (tp, flh) was started as well. CD productions such as "Tears", "My Time", Underground System" strikingly demonstrate the vitality of the music of these ensembles, which are still active.
Ed Neumeister comes from the USA (West Coast), accompanied stars like Frank Sinatra, Nancy Wilson and Sarah Vaughan, played from 1980 on in New York in the big bands of Lionel Hampton, Buddy Rich & Gerry Mulligan, then for more than 15 years in the Duke Ellington Orchestra (trombone & arrangements) and at the same time in the Mel Lewis Jazz Orchestra (with Joe Lovano & Tom Harrell). In addition to his jazz activities, he has also played in symphony orchestras in San Francisco and New York. In the early 2000s he moved to Graz, where he taught at the Music University for 17 years. He founded several of his own ensembles (with Fritz Pauer, piano and Jay Clayton, vocals, among others) in Austria, Los Angeles and New York, where he returned in 2017. During his time in Austria, Karl Ratzer brought Ed Neumeister into his quintet, founded in 2012, that still exists today (concerts on New Year's Eve & New Year's Day at Porgy & Bess in Vienna traditionally feature Karl Ratzer ensembles, including Neumeister).
"Alone Together" is a concentrate and distillation of all the experiences both performers have had, playing the repertoire of the "Great American Songbook". A melancholic and respectful declaration of love to a time that has irretrievably passed away, but is brought back to life anew by Karl Ratzer and Ed Neumeister! (Julian Schoenfeld)